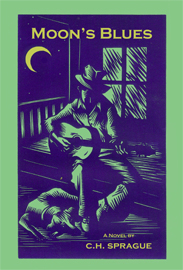 Moon's Blues
Second Edition, October 2015
Silver Beech Press
ISBN: 978-0692539866
Buy Now
Trouble looms for Duggie Moon, Rapidan County's most affable aging flower child, when the love of his life, Jenny Carson, takes a job with a suave handsome artist whose assets include a villa in France.
In hopes of impressing Jenny, Duggie throws himself into a musical career, but after discovering that playing guitar isn't as easy as it looks, he decides to try his hand at managing a rock band. How hard could it be?
But when a talented local group takes him on, Duggie soon learns to his dismay that the six members of Identity Crisis are one frayed nerve away from implosion, and he'll be lucky if he can hold the band together long enough to play at the big Halloween concert he's promoting with borrowed funds. Lots of borrowed funds.
As the concert nears, pressure mounts, storm clouds gather, and egos clash like cymbals under the October moon, even a stoned-out optimist like Duggie knows someone could get hurt. He can only hope it will be the drummer. That guy's been asking for it.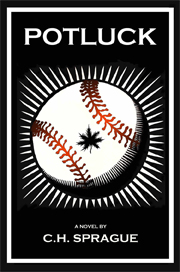 Potluck
Second Edition
Silver Beech Press
ISBN: 978-0615953687
Buy Now
"Not bad… Better than I could do!"
—P.R., Washington, DC
In the small town of Dudley, Virginia, what passes for social life reaches its apex each year at the Fourth of July softball tournament. In the sultry summer air, passions burn, tempers flare and anything can happen in the tall grass.
As captain of a team sponsored by his sister Glory's Moonlight Café, slacker extraordinaire and former Latin scholar Duggie Moon has his hands full, after his ace pitcher and long-standing unrequited love Jenny Carson is forced to play for a rival team. In addition, a team of ringers from out of town have entered the tournament, and more than mere honor is at stake. His sister's business and his job depend on the outcome, but Duggie, ever the optimist, is confident he can keep his eye on the ball even as it curves toward chaos.
Ignoring the sage advice of his neighbor, mystery writer Morris Dent, Duggie tries to manage infield intrigues while keeping secret the cash crop of pot he's growing in a school bus hidden behind his mountain shack. But when the Sheriff comes sniffing around the championship match and Duggie's got the game on his bat, all his plans could go up in smoke.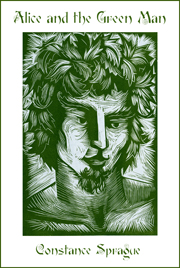 Alice and The Green Man
CreateSpace
Paperback: 242 pages
ISBN: 978-1484989302
Buy Now
"Imaginative and charming…love, magic and fascinating characters."



—Romantic Times Book Reviews
"A wonderfully quirky read."
—Coffee Time Romance
Newly Restored Edition! Love was the last thing on her mind when newly divorced Alice Owens planted a beautiful garden on the abandoned lot next to her house. But when a developer attempts to pave over her paradise, Alice meets the love of her life when a mysterious immortal Green Man arrives to help protect the garden.
While Alice's two teenage sons take opposite sides in the conflict, her ex-husband schemes to put an end to her garden and her new romance in the hope of winning her back. But, when the Green Man casts a magical spell to shield the garden, a firestorm of media attention rages out of control, and Alice must risk losing everything she holds dear to save the one man she can't keep.
In the modern climate of environmental awareness, Alice and The Green Man is a fairytale for the green at heart.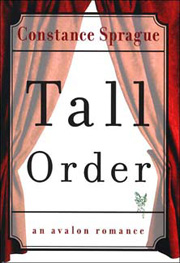 Tall Order
A Montlake Romance
Buy Now
Does every hero have to be tall, dark and handsome, or can a quality guy win the girl if he's only got two out of three?
At 6'1″ and 27 years of age, art history professor Ava Morrison of Richmond, Virginia, is no starry eyed romantic, but she'd rather live alone than compromise on the specifications for her dream man. Ava's attitude alters after she auditions for a part in a community theatre production and gets to know director Troy Burnett, a soccer playing single father who measures 5'8″. But, when a tall dark and handsome visiting English professor begins wooing Ava, Troy has to go the distance to convince Ava that when it comes to size, heart matters more than height.