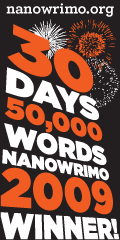 When I first read Anne Lamott's Bird by Bird, a wise and wonderful book of advice for aspiring writers, I was encouraged by the author's gentle nurturing approach. So many would-be authors falter after a few pages, daunted by the overwhelming task of building whole worlds out of mere words.
With humor and grace, Ms. Lamott reveals the simplest path to success. One step at a time. One word at a time.
It's a lovely idea, and soothing in its way.
But although I've used that method, in the last couple of years I've also been trying a different approach. The organizers of National Novel Writing Month (nanowrimo.org) encourage hopeful authors of all ages and genres to throw caution and spelling to the winds, and write as if someone's life depended on it.
The goal is fifty thousand words in thirty days. It helps to be slightly insane.
For some reason this system speaks to me. The craziness of it. The self-induced panic. The steadily mounting pressure. I find it strangely tonic.
Last year I managed to crank out a mediocre murder mystery in the time allotted. This year I started out with a kind of memoir idea. But one week into it I realized it was a mistake. I had to start all over. This meant fifty thousand words in twenty-three days.
Today I crossed the finish line. The book isn't done. But it's got muscle, bones, and some raw personality.
I can't wait to see what it will do when it grows up.