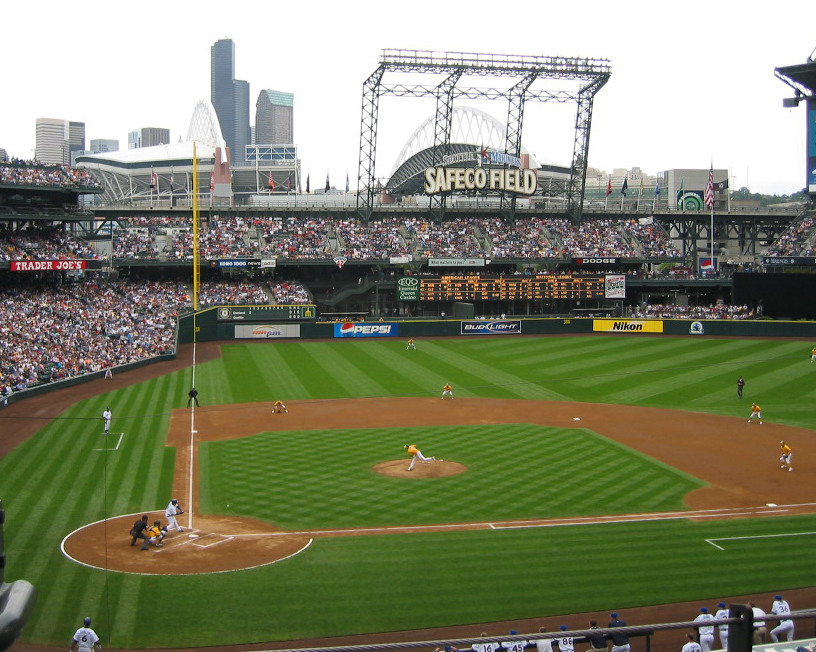 It's that time when the baseball season has begun, and the first losing streak (seven games) has been snapped, and the diehard fans are still clutching those season tickets with a kind of wistful, albeit delusional, hope that this will be the year the Mariners prove they've got what it takes.
Not that anyone really believes this. But it's the hope that carries us along, as we watch King Felix pitch with consistent conviction only to be undone by the limp bats of the offense. No offense. But really, that's the problem. Again. At times last year it almost seemed as if the announcers could have phoned in the analysis.
But that's baseball. Some teams got it. Others . . . not so much.
Still, if you get hooked on the dance to the music of baseball, you have to be there. Good or bad, win or lose, the game remains strangely hypnotic for those of us who give in to it. Since moving to Seattle I have learned to love baseball in a way I never did before. After years of watching soccer and tennis and even football, the game of baseball offers an entirely different kind of narrative. I'm continually intrigued by the variety of skills, and strategies, and personalities, by the slow unfolding of each game's drama.
And at the heart of the game is the dynamic fulcrum of risk – the cagey battle between pitcher and batter. To swing or not to swing. It would seem a simple question. But when every pitch varies in speed and trajectory, it's not so simple. And what can be more annoying than watching a perfect strike go by without taking a swing? I imagine it's hard to judge a ball whizzing past at 97 mph, as they often do in Major League Baseball, so I have a lot of sympathy those guys.
As a writer, I've had some experience with pitches. Not the kind you see in the ballpark, but the kind that editors and agents demand before they'll consider reading your work. A good pitch can open doors in the publishing business. But these days, the sheer volume of pitches being thrown in the publishing industry is so overwhelming that few editors and agents will consent to swing at anything unless the writer has already done some heavy lifting.
At the last writers conference I attended the most popular buzzword in the seminar programs was platform. As in: you have to have a platform if you want to be a successful writer. It's not enough, apparently, simply to write whatever it is you feel driven to write. You have to build a platform – blog, Tweet, tour, plaster your name in as many places as possible to create buzz about yourself, to reach your target audience, to keep them informed about your books, your life, and enable fans to connect with you.
All of this sounds reasonable, I suppose. But the reality is, if you really want to build a platform, it takes money, time and a lot of effort which might otherwise be put into your writing.
So, as I'm gearing up for the publication of another book, coming soon to a web site near your computer, I'm thinking of pitches and platforms, promotions and pop flies. I'd like to think that I have fewer illusions about my writing career than I do about the Mariners' chances of making the playoffs.
But, truth be told, I'd love to hit one out of the park.
Will it be "Moon's Blues," my up and coming light novel about an affable geek who tries to impress his girlfriend by managing a rock band? Probably not. But you never know. It's a long season. Anything can happen. That's my platform.