Summer officially begins June 21st. In other parts of the country shorts and flip-flops will be worn, barbecues will smoke. Some people may even work up a sweat at local ball games and festivities.
In Seattle, summer arrives like a rock star, fashionably late and so beautiful that all is forgiven. You can't stay mad at a summer like that. You don't want to waste a minute in pointless ire.
But all too often it takes an act of will to believe in summer here before July. The weather rarely provides supportive evidence. The forecast for tomorrow is typical: a high of 61 degrees with an 80 percent chance of showers throughout the day. Folks back East might find such a forecast discouraging. In Seattle, it's parade weather.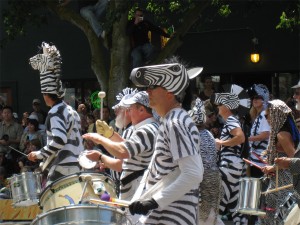 And nobody parades quite like they do in Fremont, the neighborhood whose self-proclaimed position as "The Center of the Universe" belies its decidedly leftish bent. Fremont champions the quirky and the freedom to come as you are, or who you wish you were, or whatever. No one will judge you on your attire, or lack of same, and the annual Fremont Fair Solstice Parade kicks off the summer season whether or not summer, as traditionally defined, has arrived.
The parade is famous for its first course: the hundreds of naked bicyclists who streak by the crowds, flaunting feathers, flowers and bodypaint. But the real excitement arrives with the bands. They don't exactly march. And their costumes lean more toward Mardi Gras than military. Their rhythm is irresistible. Playing everything from hip-hop to salsa to swinging zoot suit tunes that defy categories, these bands rock the streets.
But for my money the unsung heroes of the Fremont parade are the strong silent crews who power the floats. Because, in accordance with Seattle's ubiquitous "greener-than-thou" ethic, the Fremont parade has one rule: no machines, motors, electricity or animals can be used to move the floats. It's all old-school push and pull by strong silent men and women. Even in the chilliest weather you can easily pick them out. They're the ones sweating.