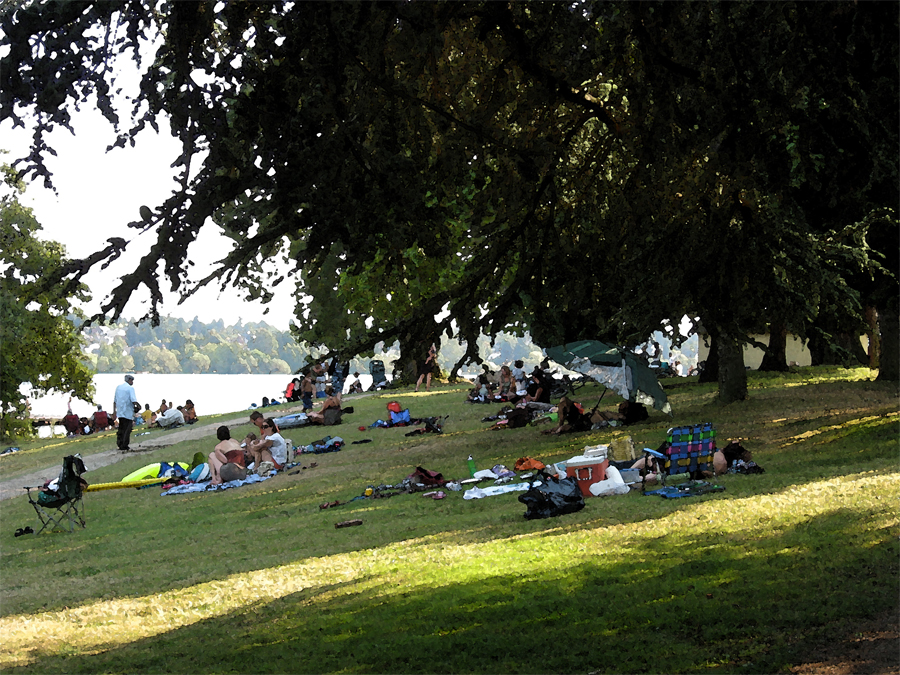 If Georges Seurat had lived in Seattle, he would have been drawn to Green Lake, compelled to paint its shifting scenes of people, water, shadowed lawns and fluttering tree canopy.
Of course, in 1884, at the time Seurat was painting his masterpiece, "A Sunday Afternoon on the Island of La Grande Jatte" in Paris, Green Lake hadn't really come into its own as a playground for Seattle urbanites. For those wishing to visit the park at that time, a trolley extending from the city provided an easy option. These days the trolley is gone, but nothing stops the crowds from flowing into the inviting lakeside spaces, especially when the sun shines.
This past September week summer finally visited Seattle. Nine days in a row of temperatures in the 80s. We dug out our fan and plugged it in.
Good times.
But if Seurat were to visit Green Lake now I suspect he might be a bit taken aback by the changes in fashion and social conventions since his time. Hardly anyone uses parasols anymore. Skateboarders and inline skaters whiz past the strollers on the path around the lake. And Georges might be dumbfounded by the constant stream of joggers sprinting by. The mood is tranquil, but hardly sedate.
Yet sometimes, when the light is right, if you squint your eyes and stare at the lakeside scene, you can still get a glimpse of what Seurat saw.