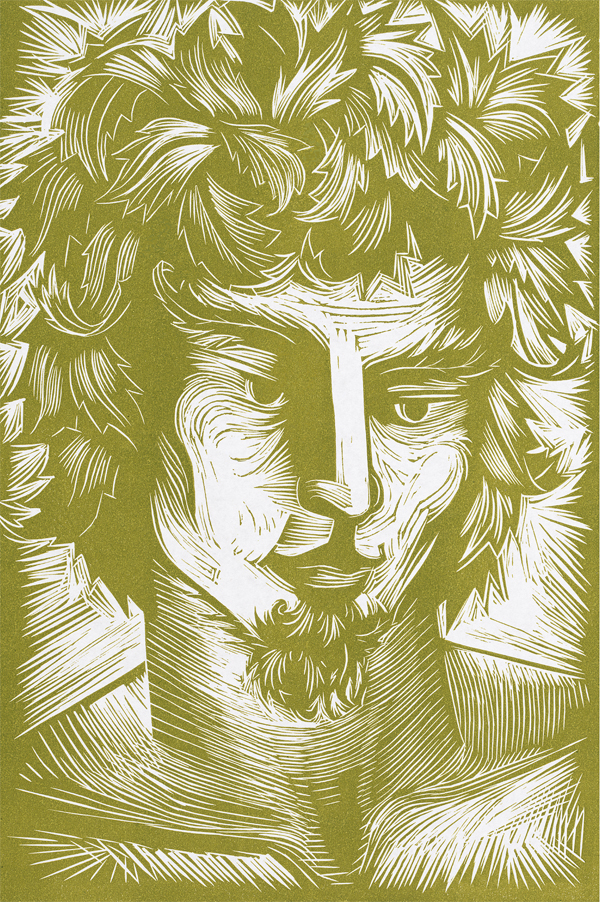 For those of us who enjoy spending a large portion of our lives reading fiction, the borderline between the world of the imagination and the so-called real world is sketched in erasable ink. We whose literary passports bear the stamps of dozens of favorite authors have no trouble packing our willingness to suspend disbelief. We welcome the chance to plunge into whole new worlds, to escape from our own daily anxieties while we visit inside the heads of other characters.
But when I first began to publish my writings I learned that all readers see things through the lens of their own imaginations, and what seems clear in my own head leads some readers only as far as a state of confusion. The first time this happened I was working at a newspaper in the small Virginia town where I lived, and I had written a column about my difficulty accepting the fact that one of the first things my oldest daughter did after she went off to college was to shave half her head.
I was upset by this. She has beautiful, thick, chestnut hair, and I felt the new look didn't accentuate her best qualities. I wanted to be a supportive, easy-going, liberal mom, and I tried to go along with it. But I couldn't mask the dismay in my eyes, and my daughter noticed. Words were said. For a time, there was a new awkwardness in our relationship.
The column I wrote about it made light of my maternal distress, the wacky things kids do, all those typical reference points that bind together those of us who raise children. A lot of regular readers responded to the column and seemed amused by it. But after reading that my daughter had shaved half her head, one woman who worked in my office took me aside and offered her sympathies and asked in a quiet undertone, "Which side?"
I had to stop and think. I had no idea. Did it matter? Apparently, this woman had been attempting to visualize my daughter's new look and had been stymied right out of the gate by this all-important detail.
I'll be honest. I still couldn't tell you which side had hair and which didn't. It wasn't the hair that bothered me. It was the bare skull.
That was the first time I came face to face with the reality that no matter how well a writer sees his characters and their world in his own mind, unless readers can enter into it, they aren't going to be able to care much about what happens there.
When I was first trying to get an agent or editor to take a chance on Alice and the Green Man, the rejections I got tended to be all the same. They all liked the idea, they thought it was original, they enjoyed my writing, but they balked at the basic concept of a woman fighting for a garden. That notion didn't grab them. Not enough blockbuster potential. I was told by several agents that the market was hot for hotter stories – more sex, more violence, more dark creepiness. Well, for a thousand reasons I won't go into, I am so not going to write that kind of stuff. It's not what I want to read.
Eventually, on the advice of a successful published author I met by chance while waiting for a train, I entered Alice and The Green Man in a bunch of Romance Writers' contests. Generally they request the first three chapters, and the preliminary judging is done by other aspiring romance writers, some of whom have been published. I got a lot of interesting feedback from those contests, and scored well in several, though none led to a contract. But one curious aspect of the comments made me question whether I should continue trying to pass myself off as a romance writer.
I am, of course, a romantic. I long for a world in which happy endings are the norm. That's why I write fiction. But many of the women who judged these contests seemed troubled by their inability to see the world of my imagination. Actually, that isn't entirely true. Some of them seemed to enjoy their visit to my garden. Others thought there was entirely too much floral description and not nearly enough bodily contact.
And there we come to the green heart of the matter. From the first moment he came into my mind, Fergus, the Green Man, was a vivid, sexy, intelligent, fascinating man who cared about plants. Wow! My dream man. But not, it seems, quite so enthralling to a lot of the women who read my contest entries. On one point in particular they were united. They wanted to know the exact shade of green he was. And was it just his thumb? Or, umm, all parts of him?
Well, of course, I thought I had spelled this out in the text – that his skin was a delicious olive tone, that it seemed to get greener after he sat in the sun for a while, that the leaves and vines were drawn to him by his aura of fertility. As is Alice. 'Nuff said.
But not, apparently, for the judges. In the margins of my entries they wrote their concerns. They seemed to see my Green Man as some sort of amalgam of the Hulk, the Jolly Green Giant and Shrek.
Not even close to my vision.
The idea to take the ancient archetype of the Green Man, a figure so shrouded in mystery that no one knows who first produced an image of a man with leaves sprouting out of his head, and make him a hero in a modern setting appealed to me on many levels. While many of the early depictions of the Green Man carved in stone on medieval cathedrals in Europe show a monstrous untameable creature, these illustrations grew out of the earliest struggles of humankind, when nature itself was a thing to be feared, conquered and placated. Now, as modern civilization has reached the brink of nearly destroying the tree of nature on which our very existence depends, society has a different view of nature as something to be cherished, and a new passion for connecting with the natural world. In my interpretation of the mythic Green Man, I simply took this new passion to its logical extreme.
So, when in the course of time I finally decided to self-publish the book because I was, and still am, hopelessly in love with my Green Man and want to share him with anyone who might appreciate his charms, one of the most important parts of the process for me was making sure that the cover image gave readers an evocative suggestion of how to 'see' my Green Man.
Luckily, my artist friend Deborah Harris has been a longtime supporter of my work, and when I asked her if she would be willing to create a portrait of Fergus, she embraced the idea wholeheartedly. Deborah is a marvelous painter, but I wanted a woodcut, because for years I have admired her floral woodcut designs, and I felt sure that she could create an image that would straddle the border between the imaginary and the ordinary.
At first we had some discussions about what Fergus looked like. She sent me a few trial sketches that had elements I wanted – the twining leaves, the sensual eyes. But the cheeks were too cherubic, too innocent. I wrote her back and told her to take a look at some photos of the character of Spike, from Buffy the Vampire Slayer. At the time, I was at the height of my obsession with that show, when it was in its witty, genre-breaking prime. A few weeks later Deborah sent me an image and asked, "Will this do?"
"Yes," I said, "yes, it will, yes."
Since then, of course, the book has not exactly blazed a trail through the publishing world. But it has been read and enjoyed by a few people, and this brings me great satisfaction. I know I don't personally have the strength or courage or vision to save the natural world from the forces of destruction bearing down upon it. But if enough men and women unite in not only seeing, but being green, maybe there's hope for us all.